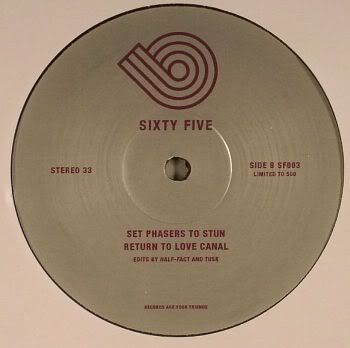 The real deal!!
Love canal used on a mix by Mr.
Fred Naked
DJHistory
Thread
Its finally here the release of Sixty Five edits 003. Edits by JAZ, TUSK, & Half-Fact
Availible in the following Shops:
Phonica Records, London
Not much info on the artists but Sixty Five records (or maybe we should say mother label Claremont 56) managed to get some amazing tracks together once again! It's Jaz, Half Fact and Tusk recording some superb jazzy summer disco vibes. The disco funk is definitely broken out on the A1 whilst the second track on the A side works a bleepy eighties-vibe (just check out those raw drums!). Things all go a little bit more serene on the B side. Another essential collection of re-edits and the like from those Claremont cats!
Juno
Piccadilly Records
Four more mysterious edits from the Claremont camp, first up is Half Fact with "Jet Lag", crisp beats, plenty of squealing guitar, some horn action an a killer swirling disco groove. Next up is Jaz with "Gliding" which is a touch more digital, bleepy melody, nice rhythm guitar, spacey synths, more horns (albeit filtered in a weird way) and a plodding beat. Over on the B-side Half Fact's "Set Phasers To Stun" is a big orchestrated disco number, with a big old slap bassline, noodly synth action and more horns! Last up is Tusk, "Return To Love Canal" is another mid tempo piece with even more horns, a big old lazy beat, this one is a real smoocher, we may even see people necking in nightclubs because of this sultry little number
Terry's (from
T.M.L
blog) take on the release. Preview some of the tracks there also.