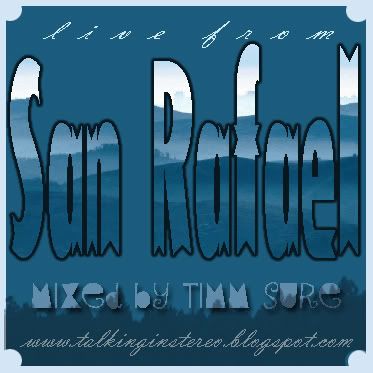 Ok Folks,
Timm Sure has been kind enough to do an exclusive mix for Talking in Stereo. Besides being a great DJ, Timm is also a producer under his,
Coyote
with partner Ampo, moniker making uber-Balearic tracks that douse you in sunlit atmosphere. Timm has been DJ'ing since 1988 so you know he has deep crates.
Timm Sure - Live from San Rafael
Track listing:
1) Justus Kohncke - the answer is yes
2) David Bowie - heat of the morning
3) Tangerine Dream - impressions of sorcerer
4) Phoreski - down and out
5) The World - the loop
6) Woolfy vs Projections - the return of starlight
7) Smith and Mudd - Vegetable Square
8) Coyote feat Saro Tribastone - Eve
9) Kid Creole and the Coconuts - I'm a wonderful thing, Baby
10) A Mountain of One - People without Love
11) Quartz - Meltdown
12) Coyote - Too Hard (Aeroplane remix)
13) Dc La Rue - DC le Groove (GW Edit)
14) The B-52's - 53 miles west of Venus
15) Janis Ian - Fly Too High
To get a hold of Timm's 4 mix series called "Is it Balearic. . .' run over to
Cool in the Pool
.