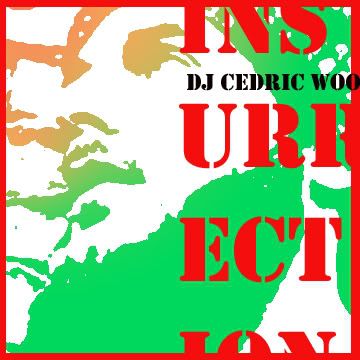 Alright you afro-funkateers,
Here is a corker from one of the men behind
Beauty and the Beat
and
Voices Collective UK
, DJ Cedric Woo. Cedric is a music and sound connoisseur of the highest order. In this mix he delivers a hedonistically psychedelic afro-work out, spread over 2 hours of lush sonic hues.
Cedric Woo - Insurrection
Tracklisting:
Here's the playlist:
1- Henri Texier – Hocoka
2- Ahmed Abdul Malik – La Ibkey
3- Sabu Martinez - Para Ti, Tito Rodriguez
4- Emilio Santiago – Bananeira
5- Azymuth – Melo Dos Dois Bicudos
6- Jorge Ben – Oe Oe Faz O Carro De Boi Na Estrada
7- Tim Maia – Terapeutica Do Grito
8- The Souljazz Orchestra – Insurrection
9- Zeb – Felakesh
10- Anthony Nicholson – Voodoo Drumz
11- Kora Jazz Trio – Folly
12- Cozy Cole – Eva
13- Wilson Pickett – Don't Knock My Love Pt 2
14- Bobby Mc Ferrin – Dance With Me
15- Mombasa – Massai
16- King Sunny Ade – Ase
17 – Hugh Masekela – It's Raining
18- Wganda Kenya – Tifit Hayed
19- Blo – Don't take It Away From me (Akwabaa remix)
20- The Real Fake MC – Just Call Me Real Fake (instrumental)
21- AN-2 – Diva (September version)
22- Andrew Allsgood – (Disco) Pigs in Space (Brennan Green Oh Snap! Five Oh! Mix)
23- King Errisson – Space Queen
Cedric's Red Bull Music Academy interview 2005:
Favourite breakfast: French classic - chocolate croissants + amandine + dark coffee.
What is the best thing about living in your city?
Cultural centre, unique friends and cheap flights to get out.
What music-related projects do you have a hand in?
DJ/Promoter at monthly parties Voices, and Beauty and the Beat.
Is your approach to music influenced by your upbringing or country of origin, and if so, how?
I guess growing up in Clermont-Fd, (France) kept me away from most of the hype surrounding music and fashion in bigger cities and taught me to appreciate music for what it is, not what it represents.
What are you looking forward to discovering while in Seattle?
The Westcoast lifestyle and Mudhoney T-shirts... are they still around?
What do you collect besides music?
Collecting is no good for you...
Three non-music nerd things to do?
Reading Iouri Droujnikov, growing your own and getting lost in the enchanted forests of Scotland.
Personal motto or mascot?
Love your brother, respect your sister.
What was the last song that made you laugh?
'Fake French' by Kenny Larkin... no wonder he's a comedy artist on the side!
What song gets you out of bed in the morning? '
Yellow Daises' by Fertile Ground.
Imagine you can create your dream band for a one-off show.
Who's gonna join you on stage?
Tony Allen (drums), Paul Randolph (bass), Brian Auger (organ), Guem (percussions), Pharoah Sanders (sax and magic), Mos Def and Bahamadia (rap, scat, whatever). I'll be watching!
Which artist or DJ from your country do you think the world needs to know more about?
My wife.
Got a web page?
Point us to it.
http://www.voicescollective.com/
Top 5 for 2005 so far?
Dwight Trible & The Life Force Trio - Equipoise feat. Sa-Ra Edan - I See Colours The Bafara Citizens - Mafungo (African Bash) Funky Lowlives - Funkconstruction (Beats) Map Of Africa - Off The Coast