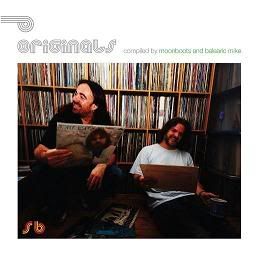 OUT NOW!!!!!!!!!!!!!!!!!!!!!!!!!!!!!!!!!!!!!!!!!!!!!!!!!!!!!!!!!!!!!!!!!!
This is a contender for comp of the year. Coming soon to Claremont 56's
shop
A review here by the mighty
Cafe Del Lar
.
Don't sleep limited to 800 world wide. I have number 666.
Description:
Originals is series of compilations put together by un-sung heroes in the music world, the discoverers, the people behind the people, the influencers and the taste makers who don't seek the limelight and often get overlooked.
The first of the series takes us to Manchester where Moonboots and Balearic Mike expose their extensive musical repoirtoire, uncovering unknown gems and exclusive new tracks from the depths of their well thumbed and well loved record collections.