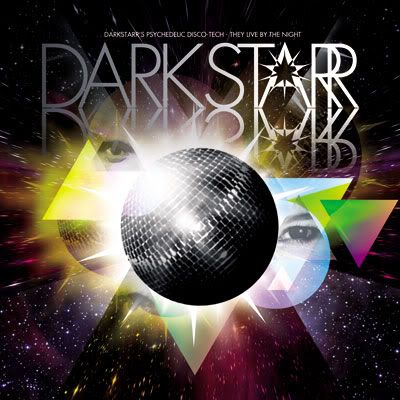 With the release of the
DarkStarr's Psychedelic Disco-Tech
, I'm letting them take over the STS controls and fly straight for the heart of the sun. I'll be playing the first half of their compilation and some exclusive Cosmodelica related remixes and Darkstarr edits.
Enter their world and dance to the disco-tech:
(from Darkstarr Blog) Psychedelic Disco-Tech: No, its not must another lame ass musical genre coined by a journo for trainspotting anoraks (like ourselves?). As DarkStarr is about melding musical styles and fusing different sounds, Ash and I could not put a label on it. How do we describe the amalgamation of trippy, far-out tunes we play at our nights? What term can depict the variety of moods and emotions we portray without locking us into a certain category? We needed an illustration that was all encompassing and "psychedelic disco-tech" just seemed to cover it.
listen anytime
Tracklisting:
Darkstarr Comp:
1) Wild Rumpus - Kazan
2) Chicago Transit Authority - I'm a Man
3) Still Going - Spaghetti Circus
4) Mass Productions - Cosmic Lust
5) Shirley Lites - Heat you up (Melt you down)
6) Yam Who? - Wax the Van (Yam Who? rework)
7) Sidwho? - Vote for Bowie for President
8) Fontan - You Too
9) Mavis - Revolution (DarkStarr Remix)
10) Montana - Warp Factor II
11) Bob Holroyd - African Drug
End of Comp Part 1
12) Phenomenal Handcalp Band - Testimony (Comsodelic Dub Factor remix)
13) Rare Earth - Smiling Faces (Ashley's DarkStarr edit)
14) Salvador Santana - Don't Do it (DarkStarr remix)
15) Detachments - Holiday Romance (Cosmodelica Holiday Drama mix)
16) Bat for Lashes - Two Planets (Cosmodelica Mix)