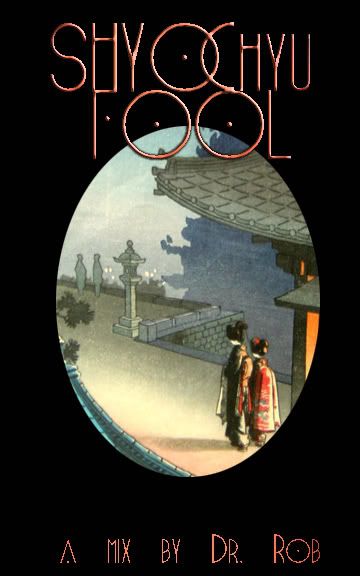 Mix download
Rob's mixes, record collecting abilities, and Tokyo based party Right/Right/Right have been a huge inspiration to me. Through his Balearic wanderings he has ben able to assemble an arsenal of the finest white isle funk (don't pidgeon hole him though). He has even punted a few Japanese pieces off to me. Love his eclectic style. Every mix is always an education.
I am very excited to present Shyo Chyu Fool.
Here is how he described the genesis of this mix:
". . .in memory of a late night with a bag of records and bottle of japanese moonshine. . ."
Dr. Rob & Tokyo Matt's Show on
Samurai FM
From Samurai:
Always drawn to the eclectic – be it Bambaataa, Mancuso, Alfredo, Baldelli, Weatherall, Harvey – Dr Rob has been DJing and obsessively record buying since surrendering willingly to void/hope provided by the original Balearic/Acid house scene. With a current unhealthy fascination for forgotten tunes and the secret stories that they hold, "keep an open mind" be his credo. Dr. Rob is a doctor.