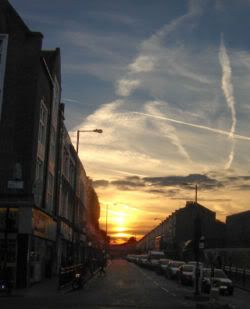 Here is the 4th exclusive mix for Talking in Stereo. I have reached out to DJ's and music collectors that have inspired me asking for exclusive mixes.
Jonny 5
from the UK has stepped up to the plate with a winding mix that takes you on a journey through sonically baked jams, landing lightly on terrestial ground. Jonny first came to my attention through his decompression mix on CBS. Here is what Jonny says about the mix "it's a mix in honour of a few lost weekends spent watching the sunrise from balconies of blocks of flats in the Hackney area of London."
Jonny 5 - Sunrise over Hackney Mixx
Bio -Jonny 5 is a member of the GAK Foundation, who can be found DJing at various seedy parties around London into the small hours of the morning. He can also be heard sometimes on the Cybernetic Broadcasting System. His next gig is in Montreal on 6th July at Loose Joints.
Upcoming Exclusive mixes from: Moonboots, Codebreaker, and Rob and Zoopsie.