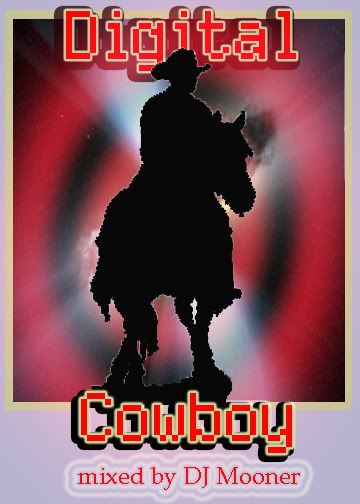 DJ Mooner - Digital Cowboy #1
Beamed from the nether regions of space comes the exclusive mix for Talking in Stereo from Germany's DJ Mooner. Knowing all things cosmic this guys delivers a fuzzed out slo-mo excursion into leftfield disco-not-disco sounds.
Moooner
is the cultivater and curator of the Elaste compilation (Compost Records) and of the
Discoteca Cosmic
site.
Here are his favorite Cosmic tunes with great commentary:
Cosmic vinyls between cult and Uber-embarassing
1./DIE DOMINAS S/T 10" (FABRIKNEU 1982)Manuel Goettsching has a big comeback these days with his legendary E2E4 album.But only few people know that he produced another completely improvised S&M-Monster-Analogue-Synth 10" by the name Die Dominas in early 1980 on the obscure Berlin-based label Fabrikneu.This pretty weird parody on Kraftwerk is a three piece EP, on which Rosi and Claudia Skoda work up imaginary "customers". Absolutely rare and the few hand-signed copies are of course already cult.
2./CLARA MONDSHINE - MEMORYMETROPOLIS (IC Records)Who exactly is Clara Mondshine? That nobody seems to know but theory proves Klaus Schulze, who..s Solo projects after Tangerine Dream often shred along the border of embarassment.Like many other examples, this thin border though often makes records so special.Memorymetropolis has only similarities in the way of production (that means lots of huge analog dinosaurs), otherwise this is pretty much the most schizoprenic and far-out album i can think of in the context of "Cosmic". That..s why i have to listen to it over and over again.
3./Vangelis - See you later (Gramophon, 1980)Another representative of uber-embarassing Synthesizer Doodleling of the late 70s is definately Vangelis. Hearing "Chariots of Fire", i immediately have to change the radio programme. Although at Radio Arabella i can imagine they still have that in their moldy playlist.Nevertheless, Vangelis did some extraordinary albums, like "See you Later", which is the best one in my opinion.From the balearic afterhours epic "Multi Track Suggestion" to the drawn-out "Suffocation" a track that is interrupted by a conversation in italian, each track is surprising, musically as well as stylistically.
4./Logic System - LOGIC (Toshiba-EMI, 1981)This Cosmic classic cut by Yellow Magic..s Hideki Matsutake should be re-released soon, it..s been licensed to so many Comp..s at the moment.Can i say that because of it..s naive and playful approach it..s the blueprint of Cosmic and far more, one of the best electronic records ever?Unfortunately only on Ebay at horrifying prices.Characteristic phrase on the backside: "If you don..t listen to this album, you can..t enjoy the essence of computer music".
5./Kissing the Pink - Naked (1983, Magnet Records)On old Baldelli and Loda tapes, there is often tracks sticking out from a 1980s production era that is not very glorious.Let..s take Frankie goes to Hollywood as a mark. Poppy studio-New Wave though wasn..t always bad, at least partly on this Kissing the Pink Album "Naked" it isn..t.Here, the VU-Meter is always between cult and uber-embarassing.But "Big Man Restless" became a Cosmic-hit and "Mr. Blunt" is my favourite humourous dancetrack á la Heaven 17.
6./Conrad Schnitzler - CON (EGG / Barclay 1978)On Avantgarde electrician Conrad..s longplayer "CON" there are these hyper-rythmical minimal noises, there is these whispers and buzzing sounds. Basically, there is no real melodies. Thats why you can play the record on 33 or 45, just as you want to use these rythms. And exactly that was what Beppe Loda did: Modifying old Funk and Disco tracks with a touch of modernism.
7./Supermax "Fly with me" (Elektra, 1979)Here we have another example of wrong speeds used as a Cosmic style:"Ain..t gonna Feel" is so slow,, you can play it on 33 or on 45. Actually the LP is far on the embarassment side, because the rest of the album is a mix of Austro-Reggae and Hippie-Rock.But "Ain..t gonna Feel" has this acid bassline that makes sense, even more nowadays.And on the B side there..s a bit of Voodoo-Disco with "African Blood". But, please never listen closely to the lyrics!
8./Rah Band "The Crunch&Beyond" (RCA, 1979)This essential recording for every start-up Cosmic DJ has come from the advertising business in the late 1970s. Wonderful shuffle beats like hopping rabbits on the moon..."The Crunch" by Richard Hewson, the only musician on the album, became a very successful TV ad theme.
9./Riuichi Sakamoto "Left Handed Dream" (Plexus 1981)At last i would like to go back to the far east.Sakamoto..s cocooning asian-european melancholy and ultra-modernism was an important influence for the Cosmic stylemix. Especially the japanese vocals on this piece of art were really hip at Discoteca Cosmic.