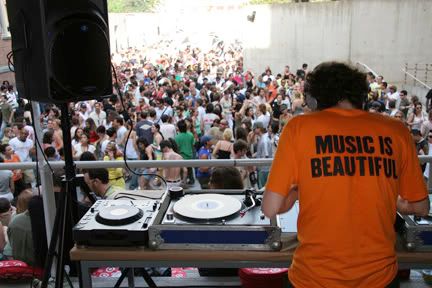 Audio archives of 2007's shows
here
P.S.1 Warm Up Every Saturday, 3:00 to 9:00 p.m. June 30 - September 1, 2007 Warm Up, P.S.1's critically acclaimed series of live music and DJ acts, features a new curatorial team for 2007 led by David Weinstein with advisers Jason Drummond (DJ Spun) and composer Zach Layton.
2007 Line-up
Lineup June 30: DFA hosts with Invisible Conga People (live);
Tim & Tim (Tim Goldsworthy and Tim Sweeney);
The Juan Maclean (DJ Set);
Shit Robot aka Marcus Lambkin; plus BLARVUSTER (Matthew Welch)
July 7: A Touch of Class hosts with; A Touch of Class (DJ set);
Lee Douglas (Rong Music);
Services (Live);
Kudu (Live);
Preacher and the Knife (live);
plus Bubblyfish/Tristan Perich (live)
July 14: agnès b. presents . . . Poni Hoax;
The Penelopes;
Frustration;
Morpheus;
JB Wiz;
Ex Nihilo Crew;
Plus Marina Rosenfeld and Zeena Perkins
July 21: Objektivity hosts with Dennis Ferrer;
The Martinez Brothers; +special guest live performances;
Plus Eric Singer's LEMUR (League of Electronic Musical Urban Robots)
July 28: Tummy Touch brings you;;
DJ's: Ursula 1000,
Tim "Love" Lee, and Ramon Santana;
with live acts Wunmi and Unicornicopia
August 4: TBA
August 11: Trouble Man Unlimited/Italians Do It Better bring you
Glass Candy (live) Mike Simonetti + a special guest DJ plus Elliott Sharp (live)
August 18 Rong Music host with
DJ Spun
Ben Cook (aka Stranger)
Eric Duncan (Rub n Tug)
Woolfy
Projections (live) plus Dewanatron (Leon and Brian Dewan, live) & Ray Sweeten and Zach Layton (live)
August 25
Escort (live)
Felix Dickinson (Cynic, Urban Myth, Bastedos; London, England) plus
LoVid (live) and David Linton (live) September 1 TBA
This is a treasure trove of mixes from some of the best acts in Dance music. Curated by DJ Spun aka Jason Drummond.
2006
archive