Speak Recordings - Label profile
Don't call it a come back because they've been here before - Speak recordings. Pet project and passion of one Son of Sound aka Henry Maldonado, are on a come back ready to set the record straight with their style of punked-funk'd dirty disco from the likes of Nick Chacona, Drrtyhaze, InFlagranti, and Michoacan. After a short hiatus the label is back in full affect with some great releases.
Henry took some time to talk in stereo with me about the label, living in NY, and the music.
DJ BWYSE:
So the label has been on a break? Why come back now and start releasing records again?
Henry:
I had to take some time to get settled with good distribution and a strong catalog. I feel really positive about the whole direction and the roster of artists I have in line. Originally Speak was supposed to be a platform for my own releases but I quickly realized how much more this thing could be if I involved some really talented friends of mine.
DJ BWYSE
: Can you explain why you decided to take the plunge and start Speak recordings?
Henry:
To be honest, it just feels right. Over the years I have released records on other labels and somehow I don't feel as if I fully expressed myself and all my tastes. Starting Speak is something I always wanted to do and originally it was supposed to be a platform for my own Son of Sound releases. Later on I involved some friends and picked up some great releases. It's turing into a group effort and I'm appreciative of that. Of course I want to continue to release my own music, but to have the opportunity to release great music from guys I respect makes it even more worthwhile for me.
DJ BWYSE:
Can you give us some background on yourself and the history of the label?
Henry:
I produced and released tracks on labels such as Strictly Rhythm, King Street, Maxi and others since 1991. Back then the concept-name was the only way labels had any control so I went under House 2 House, DeJa Vu, Urban Rhythm, Groove Culture and a few others. I didn't take full advantage of all my opportunities then because I never really felt totally at home with following trends or surrendering to any one particular genre. I would totally involve myself in the industry then withdraw again, then resurface. While away from the industry, I found myself embracing all my musical influences. I finally started Speak as a way to "get it all out there" I guess.
DJ BWYSE:
I am a huge fan of all of the artists that you are releasing but why those guys in particular? How do they fit into the overall sound of the label?
Henry:
I'm a huge fan of these guys as well. The truth is they are also good friends. I've known Doug Gomez from Drrty Haze for years while he was A&R for another label. Through him I met his partner Matthew Moffre, through him I met Nick Chacona and so on. These guys are all great and aside from being talented they are friends and that's what's most important. There will always be talented people, genuine people are harder to find. Nick, Drrty Haze, In Flagranti and Michoacan are all different while remaining in-line with Speak's direction. I obviously want to release quality dance floor music, but I want the releases to have integrity. The nu-disco, new-wave and punk-funk sound is pretty big now, but these guys are genuine and it shows in there tracks.
DJ BWYSE
: Your a DJ also under the Son of Sound moniker? I have always dug your culture clash mixes. Describe your sound and past musical influence?
Henry:
Of course I'm a huge fan of Disco (who isn't these days) and what is considered "post-disco" was just the stuff I used to listen to on the radio, in the roller-skating rinks, after school in the parks, etc. My parents are huge music fans and I grew up on a steady diet of soul, R&B and tons of great Latin music. I'm a 70s baby but lived in the 80s so of course hip-hop, new-wave and no-wave are a big part of my influences as well. My own sound is a work in progress. I won't stray to far from the signature but I guess it's all things NY. If there's something "retro" about my sound, I guarantee it isn't "retro" for the sake of being "retro", it's just the influences at work.

DJ BWYSE:
What is the future of Speak recordings? Upcoming Artists? and releases?
Henry:
I will listen to it all, keep my ears to the pavement. Sounds change, styles change but I will always stay close to my tastes in picking up releases, producing and DJing. I do want to release artists albums, a Son of Sound album is definitely in the future. I guess we will all have to wait and see.
DJ BWYSE:
So the label is based in Brooklyn? Are you a transplant or native? Why base the label there?
Henry:
I'm a New York native, raised in Queens and now I live in Brooklyn. I love Brooklyn and other than Manhattan, there isn

't another borough I would want to run my label from. I'm a stones throw away from In Flagranti, Darshan Jesrani, Nick Chacona, and so many others. New York's my home and although there some amazing places in the world, I'm not sure I want to live anywhere else - at least not yet.
Mr. Son of Sound has graciously done an exclusive mix for Talking in Stereo, it is the 4th volume of his Culture Clash series.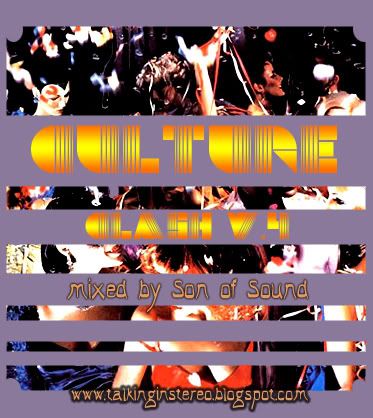 Son of Sound - Culture Clash Volume 4
Tracklisting:
Son of Sound - Culture Clash Vol.4
1. Chas Jankel - AI No Corrida
2. Kid Creole - In The Jungle
3. Turnstyle Orchestra - Latin Soul
4. Hugh Masekela - Don't Go Lose It Baby
5. Prins Thomas - Guade Loop
6. Nick Chaconna & Sasse - The Fog
7. Boyd Jarvis & Timmy Regisford - Battle Of The Beats
8. System - Times of Passion
9. Michocan - Base Head
10. NRK - Tonight
11 .Klein & MBO - Dirty Talk
12. League Unlimited Orchestra - Do or Die
13. Your Favorite Dancer - Pussyfeat
14. Giorgio Moroder - Evolution
15. Kano - It's A War
16. Bronx Dogs - Closing In (Richard Sen Remix)
17. Son of Sound - Start it Up
18. Ben Cook - Physical
19. Son of Sound - Curious (Steve Kotey Remix)
20. Electric Light Orchesatra - One Summer Dream