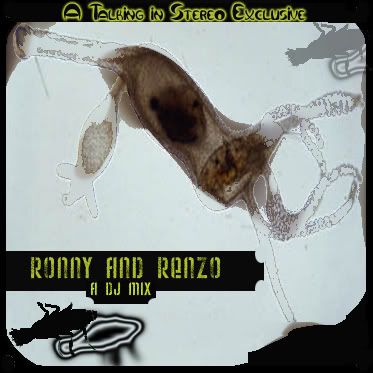 Dear Music Lovers,
I can't tell you how excited I am to host Ronny and Renzo's first online mix. These guys have been killing it on
King Kung Foo records
(Belgium) with their Uniqorn,
Big Smack and Flies
productions and remix work for Mutron. Their abilty to mix dark forboding layers of thick quaalude beats seep into this mix perfectly. This mix is a great representation of their sound and musical aesthetic.
This is hopefully one of many mixes we will be hosting by these killer Belgian selectors. DO NO SLEEP!!!!
Ronny and Renzo - A DJ Mix
Tracklisting
1. Choco & his mafimba drum rhythms / J.M.JarreClaves / Oxygene (ambient)
2. Resonance / Eberhard SchoenerYellow train (33 +8%) / Trance - formation
3. Barclay James HarvestFiction: the streets of San Fransisco (instr. part)
4. Tim BlakeLighthouse / Hip Hop locked groove drum break
5. Pierre Henry & Michel ColombienTeen tonic
6. Carlos PeronNothing is true
7. Ronny & RenzoBig smack and flies (Mungolian Jetset's medievel Knievel RMX)
8. Severed HeadsThe ant can't see legs
9. DeliriumA heart of darkness
10.Eric FramondGhetto
11.Duet EmmoHeart of hearts